Your Doutt Tool Team
These are the guys to talk to if you have a Project Manager chasing you for a completion date, or your Purchasing Department can't source your urgent tooling, or when you find your regular tooling supplier is letting you down - regularly.
Tracking Your Orders
We have an established in-house tracking system to give quick and reliable answers on the progress of your purchase orders. We can track packages shipped to your facility and we also ship our tooling overseas to international destinations.
Overseas Customers
Our customers in Europe and India are only two days away by air. A customer from England UK told us that a rush job we quoted within the hour and shipped the same day, arrived before any one of his local tool shops had even acknowledged the quotation request.
Fast Quotes
If you have a part that you would like us to quote, it couldn't be easier.
Use the button to email an AutoCAD, DXF, JPG or PDF file of the drawing and our high resolution plotter will print out the smallest details on your drawing sizes up to paper size D.
For mold dies or complex machining geometry, your IGES files would be very welcome.
If you need a quote for a complete press tool or die set, just mail us the package.
You will be pleasantly surprised by the speed of our response and by our competitive prices.
Thanks for looking around the site, our tool & die shop and manufacturing facility is located ten miles north of Meadville in Crawford County, Pennsylvania.
The postal address and email links are shown below.
What Our Customers Say About Us
talking about a local business you can TRUST
Purchasing Manager (Montana USA)
... As for your service, it is excellent and timely.
We thank you for your diligence in product quality and your delivery record. A+
Area Tooling Manager (Kentucky USA)
Thank you very much for coming out, it was my pleasure to show you our facility and some of the intricate parts we produce here.
I look forward to doing more business with your company and please tell your guys working in the shop making these tools for us, that all of my maintenance repair folks trust your craftsmanship and do not even question the quality of tools when we receive them from you at Doutt Tool. They know that they will be spot on.
Again please let those guys know their work does not go unnoticed. Thank you.
Manufacturing Engineer (Suffolk UK)
As a manufacturing engineer I have relied on Doutt Tool for high precision parts for over ten years to maintain output on our high speed automatic assembly machines.
The quality, price and delivery have always been exceptional, but it is also the close attention to detail that differentiates Doutt from all our other suppliers.
They have never let the company down and their insights on various tooling design changes and improvements has always been useful and very productive.
Flexible ordering and draw down schedules save us substantial sums each year.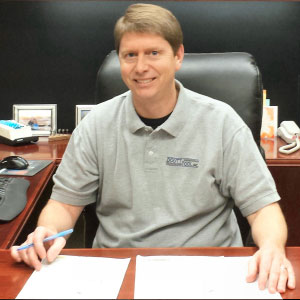 Owner Bob Melvin
dedicated problem solver
Office Manager Tina White
organized and efficient